Facilitators
George Stroumboulis
George Stroumboulis is an entrepreneur to the core, having launched several ventures across multiple industries and international markets. He has held senior-level positions at progressive companies and government institutions, both domestically and internationally, building an extensive portfolio of business know-how over the years and driving profit-generating results.
Notable experiences include the creation of a reality television program featuring Europe's real estate to a global audience, being part of the founding team of a high-tech LED lighting startup that went public on the New York Stock Exchange (NYSE) and launching the first ever real estate website focusing on the Greek market targeting foreign investors.
This all led to his current professional passion, Ideoli Group, that he co-founded with his business partner. A multi-national manufacturing company that helps international clients outfit their new spaces with custom lighting and interior products - with some notable clients including Tesla, Microsoft, WeWork, Abercrombie, Hilton, Harvard University and Aston Martin. George's ability to drive real change has landed him in several media outlets, including the front page of the Wall Street Journal, Fox Business News, El Mundo Spain, India Today, G1 Brasil, Barron's Germany, Kathimerini Greece and several others across Europe and North America.
Having a family of all girls means he has toned down his days of skydiving, bungee jumping, hang gliding and swimming with sharks... for now. Once his 3 daughters are old enough to experience these adventures with him, he promises to be back at it.
https://www.stroumboulis.com/about-george-stroumboulis
Agapi Kyriakopoulou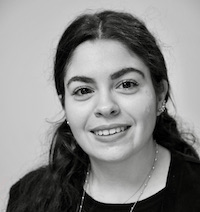 Agapi Kyriakopoulou is Marketing and Knowledge Dissemination Associate of Envolve Entrepreneurship in Greece, responsible for Envolve's communication and promotion in Greece, as well as exploring new business and educational opportunities for Envolve Entrepreneurship in Greece. 
Agapi also participates in the evaluation process of the Envolve Award Greece competition, reviewing hundreds of business plans. 
Before joining Envolve, she held marketing, digital marketing, business development, and event planning roles in the consulting, education, and healthcare industries. 
Agapi holds a bachelor's degree from the Department of Business Administration of the University of Piraeus and two minors in Marketing and Entrepreneurship Management from DEREE – The American College of Greece. Agapi has also participated in an International Consulting Program at the Virginia Commonwealth University, USA. 
Konstantinos Kissas
Konstantinos Kissas is a business development and operations executive at Envolve Entrepreneurship Greece. He is responsible for internal operations and financial reporting and for developing or leveraging existing relationships with businesses. In addition, he actively participates in the evaluation process of hundreds of business plans every year for the Envolve Award Greece, an annual interest-free funding startup competition.
Prior to Envolve, he worked in the insurance sector, providing consulting services for life and non-life insurance products, and is a certified Insurance Agent by the Bank of Greece. Konstantinos holds an MBA degree from Athens University of Economics and Business. He also holds an International Master's Degree in Entrepreneurship from the University of Milano-Bicocca and a BSc in Economics from University of Thessaly.
Maria Gabriella Anagnostopoulos
Project Manager & Financial Analyst